---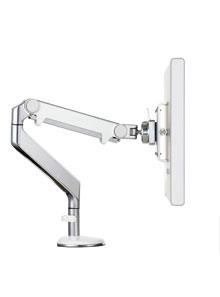 M2
Offering all the benefits of a traditional dynamic monitor arm—with none of the shortcomings—the M2 redefines high-performance monitor arms. Current-generation monitor arms utilize a bulky, failure-prone gas cylinder to support the weight of the monitor. The M2 instead uses an innovative mechanical spring to achieve exceptional performance and durability in a lightweight, ultra-thin design.
---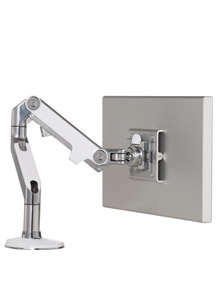 M8
Introducing the perfect fusion of style and strength. Through its unique design, the M8 Monitor Arm accommodates the widest range of monitors available today—any monitor up to 42 pounds. Combining rugged performance with sleek, handsome aesthetics, the M8 is the ideal solution for heavy monitor applications or any other environment with a flat panel monitor.
---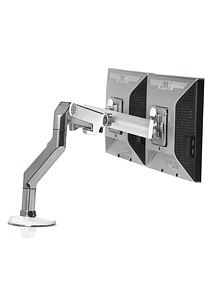 M8 with Crossbar
The M8's high weight capacity allows it to easily accommodate dual-monitor applications. Using an optional crossbar, the M8 supports two monitors—each weighing up to 20 pounds—arranged side-by-side. With a built-in fine-tune adjustor, each monitor can be adjusted for perfect alignment, creating easy viewing and a smooth aesthetic. Monitors mounted to the crossbar adjust simultaneously, allowing the user to easily re-position the entire configuration and improving the ergonomics of multiple-user workstations.
---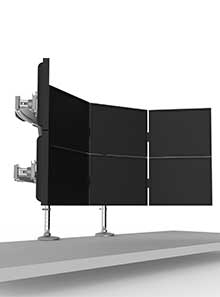 Para / Flex
Para/Flex is the ultimate computer support solution for virtually any multiple-monitor application. Designed for time- and money-saving installation and reconfiguration, it offers flexible ergonomic viewing of up to eight monitors on a single mount. Monitors can be added or removed quickly and easily, as Para/Flex expands and collapses with almost no effort. Offering a number of versatile viewing options, the second row crossbar removes easily to accommodate space constraints.
---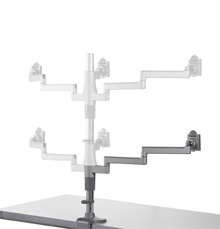 M / Flex
Introducing the world's most scalable monitor support solution. The M/Flex monitor system enables swift and simple reconfigurations without disrupting existing equipment or adding new components. Providing unprecedented flexibility, M/Flex supports up to six monitors from a single post, in any configuration, or up to twelve monitors from two posts connected via crossbars.