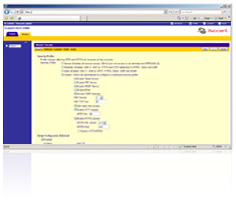 Advanced console server functionality encapsulated in a virtual machine. Tapping the direct serial connections of the virtual machine on which it resides, this technology delivers higher availability of servers in even the most complex cloud environment.

ACS v6000 Virtual Advanced Console Server
A virtual console management solution for cloud computing
The ACS v6000 virtual advanced console server offers the best of both worlds: virtual and physical. All of the next-generation functionality of our popular ACS 6000 has been encapsulated in a virtual appliance to enable dependable connectivity and management of virtual IT assets such as servers (Windows EMS, UNIX, Linux and Solaris).
Designed especially for the data center, this offering is a powerful addition to your cloud computing strategy. It fully integrates into a VMware environment, sustaining and improving such vital functions as vMotion. When a virtual server is moved within the environment, the ACS v6000 console server can maintain a persistent connection throughout the move process.
Runs on any standard x86 hardware, including Intel and AMD hardware virtualization-assisted systems
Runs on a wider variety of Linux host and guest operating systems than any server virtualization product on the market
Supports two-processor virtual SMP, enabling a single virtual machine to span multiple physical processors
Captures entire state of a virtual machine and rolls back at any time with the click of a single button
Protects investment with an easy virtual machine migration path to VMware infrastructure