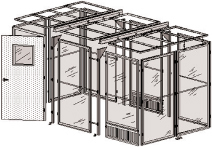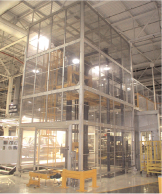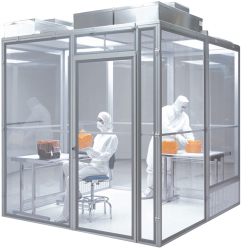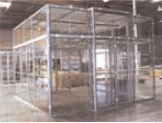 AirLock Latch-Together Cleanrooms and Enclosures
Benefits
The AirLock cleanroom and other Simplex enclosures help you protect against airborne contaminants, ultraviolet light, temperature fluctuations and even harmful noise. Create either positive or negative pressure environments, depending on your needs. Achieve up to ISO 4 (Class 10) clean levels. Rooms go together easily with a minimum amount of tools. All rooms are modular and easily expand to meet your needs.
No Matter How Small or How Big
AirLock cleanrooms can accommodate very small uses, as small as mini-environments and as large as specialized industrial applications.
AirLock Cleanrooms from Simplex Offer Unique Advantages:
Modularity
The hallmark of Simplex products, especially our enclosures and cleanrooms, is modularity. Installation can often be accomplished within a few hours with minimum tools. All Simplex products are designed to be modular and expandable. Your need for clean manufacturing space may be small at first – a 10′ x 10′ or a 10′ x 15′ may suffice. But as your needs expand, your original Simplex enclosure can expand to meet that growth.
Variety
A wide selection of wall materials to meet your needs. Choose from soft, clear vinyl, colored and anti-static vinyl, rigid ABS or aluminum sheets, clear acrylic and screens.
Compression Latching System
Airlock's compression latching system means panels install and remove easily.
AirLock modular cleanrooms meet the new ISO 14644-1 classifications for ISO Class 8 (Class 100,000) to ISO Class 4 (Class 10) levels.
Basic Construction Features
Urethane closed-cell foam gaskets seal frame-to-frame connections.
Vinyl inserts lock into frame with airtight seals.
Frame construction with knock-together corners allows for replacement of individual parts.
Most walls are interchangeable for future expansion.
Ceiling frames latch into position in the same manner as the walls, and can be designed to accommodate various types of filtration and lighting units.
Lightweight aluminum frames are available in anodized clearcoat or epoxy powdercoat white.
A variety of doors, venting and mounting options, pre-hung for quick and easy installation.
Larger Models for Larger Applications
AirLock wall panel framing comes in two versions. The Model 150, with 1″ x 1″ tubing, accommodates more common needs in smaller clean rooms. The Model 250, with 1″ x 2″ tubing is used for taller walls.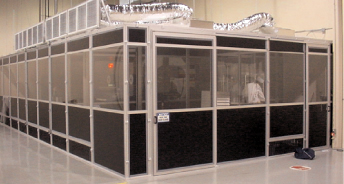 These wall panels can be used to divide existing rooms, or to create rooms using existing suspended ceilings. They attach easily and secure to existing ceilings, floors and walls with various Simplex wall and floor fastening systems.
This offers an economical and attractive alternative to high cost construction that often requires permits and other considerations.
Floor Attachments
Simplex offers you several different types of floor attachments for your AirLock cleanroom to ensure stability and a proper seal. All attachments can be installed temporarily using structural adhesive, or permanently by bolting to existing floors or walls. Check with Simplex or your Simplex distributor for the proper floor attachment for your application.



Options
Floor cleats – Install on one or both sides of the floor
Continuous Angle Stripping – Can be installed inside or outside, or both if desired.
U-track – Allows attachment to existing floor with faceplates to cover gaps for cleanliness.