Slash the time and cost of managing assets across their life cycle with flexible, automated, real-time asset management. With Asset Manager your asset management processes can finally match your business needs. Better than a spreadsheet, and more powerful than an ownership repository, RF Code Asset Manager's solution combines asset management software with RF Code's active RFID hardware. The result? A complete, end-to-end solution for real-time asset tracking and visibility. With features not found in any other asset management platform, Asset Manager combines unique, powerful functionality with an intuitive, easy-to-use console. Asset Manager is adaptive asset management for all your business needs.
Enhanced Lifecycle Management
Asset Manager makes it simple to manage your assets from deployment to retirement. Easily view critical deployment across departments, buildings, or entire organizations. Current and historical asset attributes—financial data, physical location and contractual information, for example—reside in an SQL database, enabling complete asset lifecycle management. Asset data can even be displayed in Asset Manager's Map View, providing a graphical navigation of asset locations as well as a summary of asset information for each map.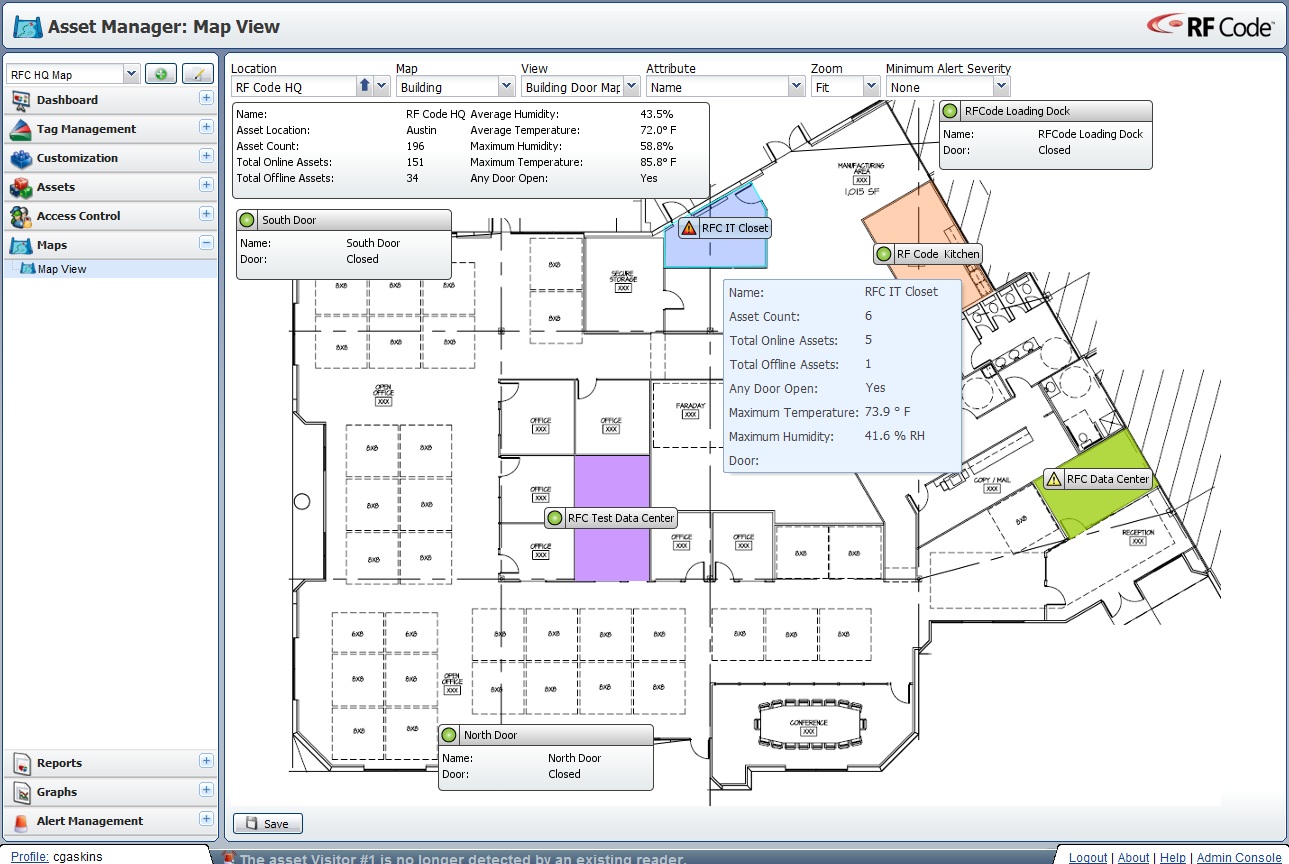 When deployed with RF Code's active RFID tags and readers, physical asset location is tracked in real-time to quickly locate and identify equipment for maintenance and service, avoiding costly downtime. Automated alerts and reports can be configured for immediate notification of asset location or condition changes, delivering cost- and time-saving benefits.
Advanced Data Management
Asset Manager provides powerful automated data management capabilities with the use of calculated fields, ensuring that the data stored by Asset Manager can be customized to suit the needs of your business. With calculated fields, complex asset and environmental data management tasks—such as dynamically calculating the value of all assets in a given location or computing the maximum or average temperature for all sensor tags in a specific location— can be handled quickly and easily.
Access Control for Heightened Data Security
Organizations can now segment data views/use (dashboard functions, asset view, map view, reports, graphs, alerts and more) according to an individual user's organizational role and function. The result is tighter, more secure asset management processes. For outsourcers looking to provide a secure way to offer asset management and tracking as a service, data segmentation enables them to maintain "firewall" like separation between their different customers' asset inventories they're managing using RF Code. For large enterprise customers, the fine-grained access control capability allows separation and security for internal organizations as well.
Wire-free Environmental Monitoring Support
In addition to managing assets, Asset Manager has the capability to fully support RF Code's line of wire-free environmental monitoring sensors. All sensor data collected from RF Code's sensor tags is seamlessly integrated with Asset Manager. Sensor information can be utilized in table views, map views as well as reporting and alerting. By combining asset management and environmental monitoring, Asset Manager provides a comprehensive view of your critical assets and the environmental conditions around these assets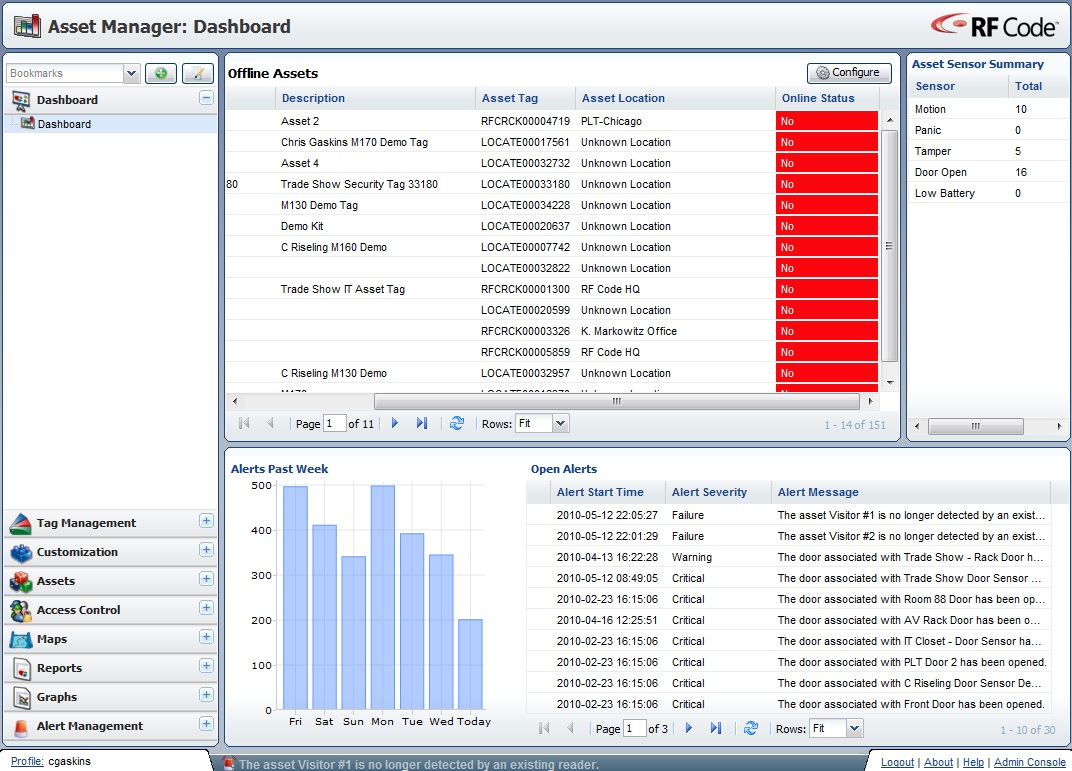 Fault-tolerant Communications Architecture
Asset Manager features enhanced data gathering functionality, including UpConnect support. With UpConnect, remote locations can initiate all contact with Asset Manager, enabling users with RF Code infrastructure in remote locations to better manage their assets, even from behind firewalls.
Asset Manager also supports remote data store-and-forward capabilities, enabling all historical data to be stored locally until a connection with Asset Manager is successful. This helps to ensure the integrity of all tag location changes and environmental monitoring data, even during a network outage.
Powerful Reporting & Graphing Features
Template based reports and graphs are available at the touch of a button so users can easily organize and summarize any information contained in the Asset Manager database even customized asset schemas and calculated fields. Reports and graphs can be run on a scheduled as well as an Ad Hoc basis and the output can be formatted as PDF, XML or CSV. In addition the Advanced Reporting Module for Asset Manager which utilizes the powerful open source BIRT reporting engine provides even more powerful and flexible reporting and charting capabilities.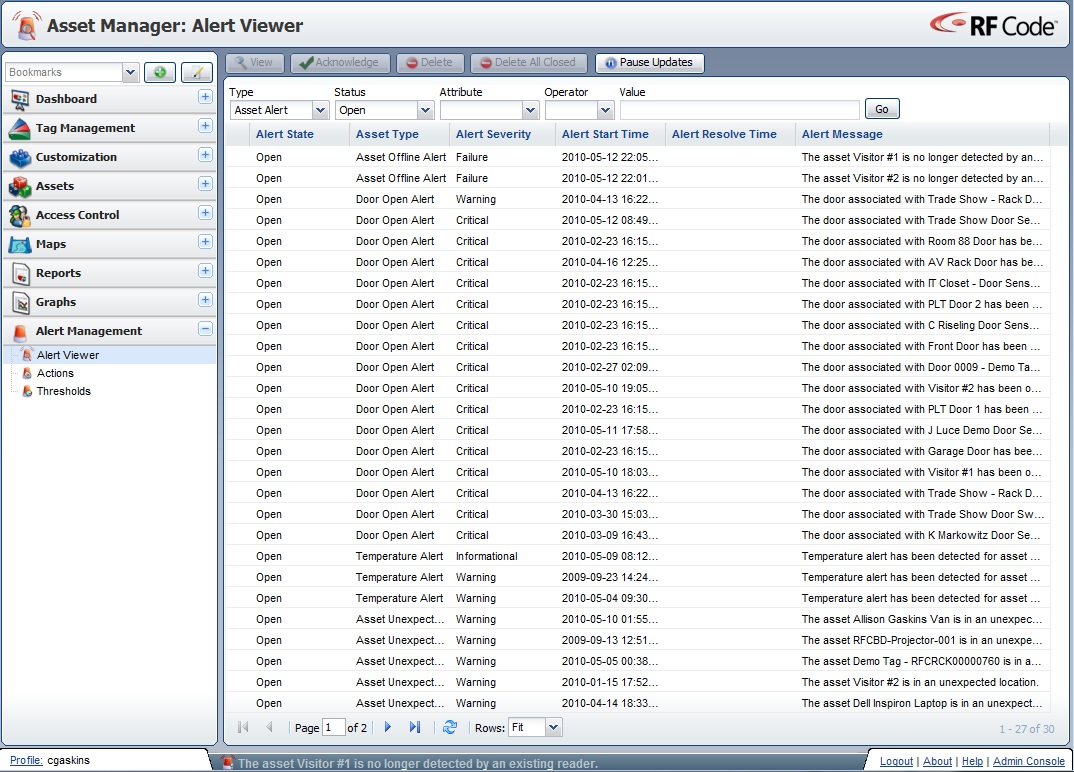 Integration Ready
Asset Manager is designed to be an open or "integration friendly" platform. A complete set of open APIs are available which would enable almost any application to integrate with Asset Manager. Furthermore support for the Java Management Extensions (JMX) standard enables large organizations to easily use information from Asset Manager with their existing enterprise applications.