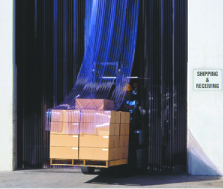 Heavy duty application using 12-inch strips to accommodate forklifts and other traffic.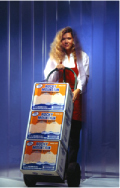 Eight-inch strips work well with lighter traffic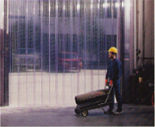 Armor-Bond Industrial Strip Doors
Save up to 30% on energy costs!
Energy reductions of as much as 30% are not uncommon with Simplex strip doors on coolers, freezers and refrigerated deli cases. Proven by years of use, Simplex strip doors can save you $400 to $1,200 per door each year, depending on the area, rates in effect and the amount of use.
In warehouses, Simplex strip doors reduce exterior wind into the interior working areas, help you control dust, and eliminate problems with birds and insects.
Strength, durability and unsurpassed quality
Lifetime warranty
Easiest strip to install.
Strips can easily be replaced or rotated within minutes without tools.
Simply loosen the thumb screw at the end of each track and the strip slides out.
The one-piece ARMOR-BOND mounting hardware is anodized for long life. Will not corrode.
All strips are shipped flat (never rolled) so they hang perfect right out of the box.
All simplex mountings are supplied with hardware to allow you to mount to any wall surface. There will be no special trips to the hardware store here.
Compare Simplex and see the quality.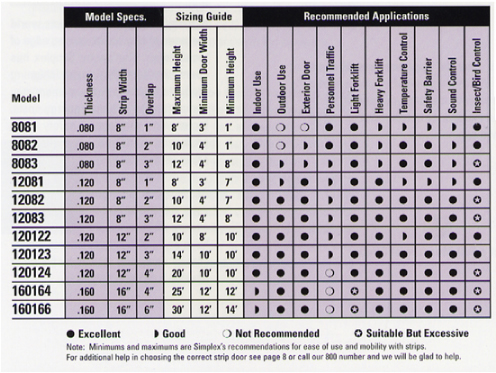 Architectural Specifications Amendment
ARMOR-BOND Industrial Strip Doors shall be Simplex model #________, utilizing a bonded bead mount system. ARMOR-BOND polyester webbing shall be RF welded to the bonded bead to virtually eliminate tearing and stress cracking at any point of attachment. Mounting hardware shall be one-piece Flat Wall or In-Jamb anodized aluminum with built-in relief flanges.