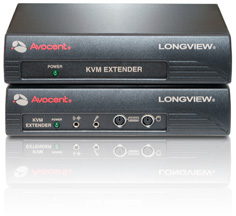 Extending the reach of your connected computers with a single cable.
The LongView® 430/830 extenders allow you to place connected computers up to 500 feet away with a single CAT-5 cable. Even at a distance, you will still have direct control of your keyboard, monitor, mouse, speakers, microphone and serial devices without impacting performance.
The extenders support environmental applications where the physical separation of the user and the computer is a requirement. These applications include harsh environments that are not suitable for the normal operation of the computer or secure applications to minimize tampering, information theft, system damage and unauthorized software installation.