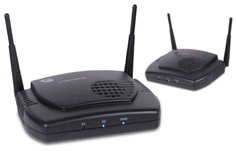 The LongView® wireless extender is a point-to-point solution for computer-based audio/video sources that need to extend LCDs, monitors, plasma displays or projection devices.
Quickly eliminate cabling with secure wireless.
The LongView® Wireless extender simplifies A/V installations by eliminating the need for cabling and expensive PCs at each remote location. The extenders provide quick, simple installation with no software to download or controls required.
Connectivity between computer-based audio/video sources and display devices is quickly realized, including LCDs, monitors, plasma displays and projection devices. Audio, video and PC content is transmitted wirelessly from the source computer to the output device utilizing a unique proprietary compression engine. The transmitter and receiver process analog video in a range of 150 feet through walls and up to 300 feet line of sight.
Its industry-standard design makes the LongView Wireless extender compatible with virtually any PC, display technology and operating system. Radio transmission begins instantly once the transmitter and the receiver are plugged in. The LongView Wireless extender also features a user-friendly on-screen display (OSD) for managing connectivity, making adjustments and tuning the audio/video settings.