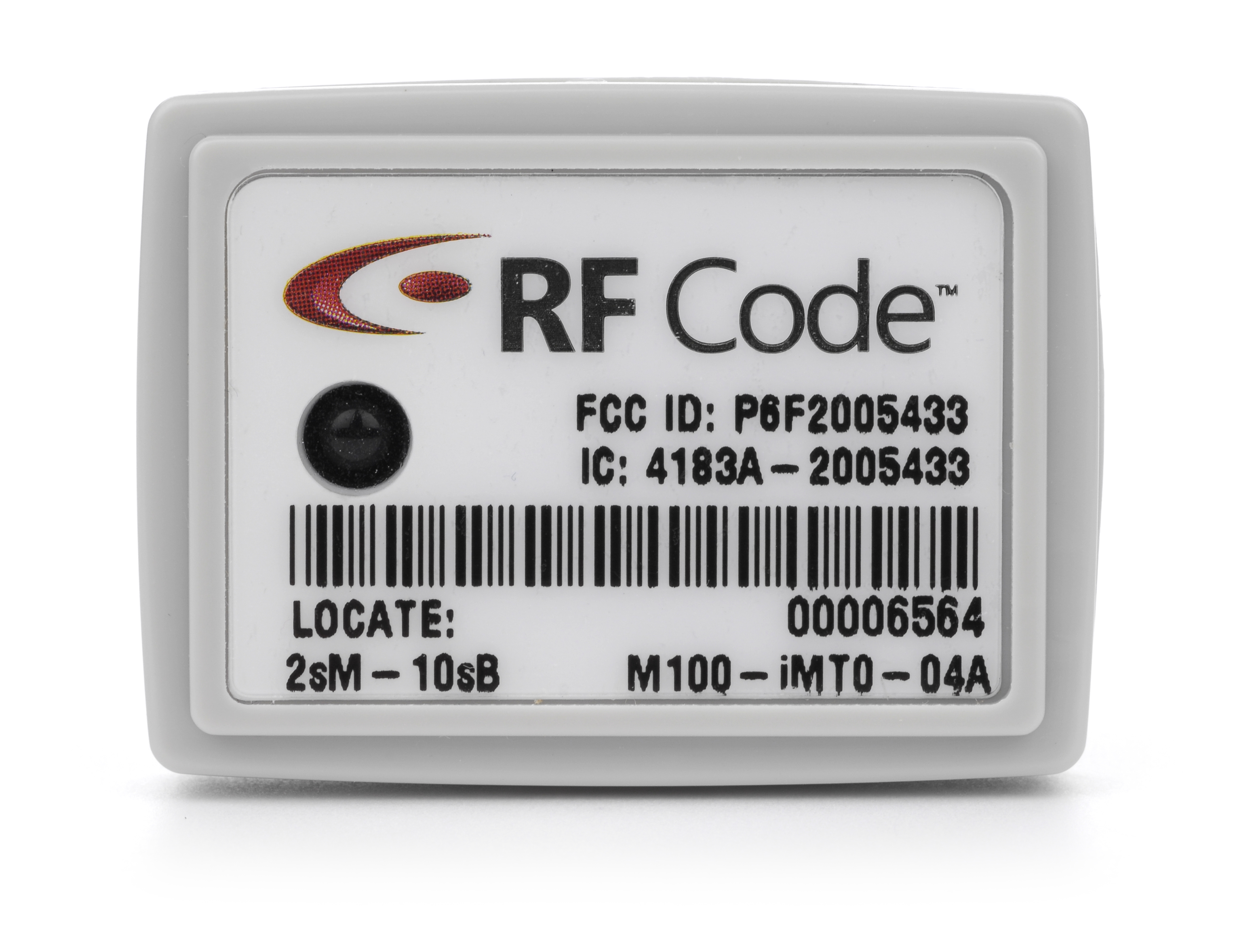 The 433 MHz M102-i tag is a battery-powered RF transmitter that attaches to items that need to be tracked, located and identified. Every tag broadcasts its unique ID and a status message at a periodic rate (that is programmed at the factory). With a modular design and low price, tags provide an economical solution to a wide variety of problems. RF Code's patented communication protocols allow for very high tag densities. Large populations of tags can be deployed in highly scalable asset tracking environments.
M102-i Tags are equipped with on-board infrared (IR) and motion sensors. This family of tags is designed to be deployed in concert with RF Code's IR Room Locators. IR-enabled tags monitor their environment for incoming IR signals and periodically report both their own unique ID and IR location codes. Motion activation allows the tag operate at 2 beacon rates: slow when the tag is stationary, and faster when the motion sensor is activated.This provides a method for rapidly locating tagged assets with room-level accuracy.
These tags can also be customized to support a range of integrated sensors. Tamper switches can be installed to trigger an alert if a tag is removed from the tagged item. RF Code's patented communication protocols allow for very high tag densities. Large populations of tags can be monitored using a single reader. Since tag location is determined via the IR room code, there is no need for deploying multiple overlapping readers, signal strength calculations, or complicated triangulation algorithms.
Tag cases are impact resistant, splash resistant and temperature stable. Read ranges up to 1,000 feet can be obtained with optional antenna configurations. The M102-i tag operates with a very low duty cycle that translates to long battery life. Based on the ratings and specifications from the battery manufacturers, RF Code develops usage models to calculate the life of the active RFID Tags. Like all models, there are assumptions and approximations involved. The values are to be taken as engineering estimates – not guaranteed performance. In most deployment scenarios, IR-enabled tags with a have a useful life that exceeds 4 years. Exposure to extreme temperatures will shorten the battery life. RF Code warrants all tags to be free from defects in materials and workmanship for a period of 1 year.
Features:
Encoded Radio Transmissions at 433 MHz
IR-enabled for Room-Level Location Accuracy
Onboard Motion Sensor
Small Size and Low Cost
Customizable Beacon Rates
Low Power Consumption for Long Battery Life
Smart Tag Option: Tamper Detection
Superior Anti-Collision Technology for High Tag Densities