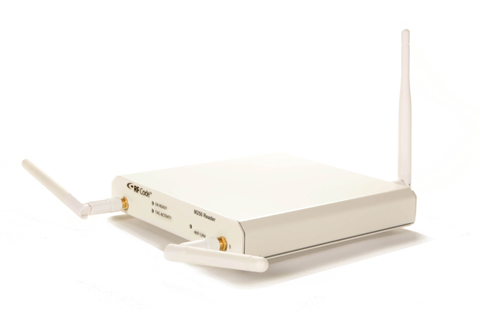 M250 readers are dual-channel radio receivers tuned to 433.92 MHz. The readers are programmed, calibrated and dedicated to interpreting and reporting the radio frequency messages emitted by RF Code tags. Tag transmissions are processed in real-time to quickly locate and identify tagged assets or personnel in defined areas. M250 readers are compatible with wired and wireless networks for rapid integration into an organization's IT infrastructure.
RF Code's patented communication protocols allow for very high tag densities. Large populations of tags can be monitored using a single reader. A single M250 reader will process in excess of 140 events per second, or 1,400 tags monitored simultaneously with 10-second beacon intervals. Readers running in 'exception reporting' mode will report only those events that represent a change in asset / location status; this significantly reduces the amount of software data processing. The M250 also supports multiple simultaneous network connections enabling multiple applications to consume tag event information. For example, the M250 can be utilized by RF Code's Asset Manager, Sensor Manager, and Zone Manager applications all at the same time.
The M250 reader's maximum sensitivity (maximum range) depends upon the installation, location and antenna configuration. The operating read range is software configurable and can be adjusted for customized applications. At default settings, the reader operates with no attenuation and reports every tag in its environment. The effective range can be reduced in 5 dB steps by selecting one of the pre-programmed settings (1 through 7). Additional fine tuning can be accomplished by dialing down the sensitivity in 1 dB increments to limit coverage to a single room or defined zone.
The RF data is made available by an application connected to the reader via TCP/IP. The operational settings are password protected. The M250 is available in two models: one model features wired Ethernet connectivity only, while the second model includes integrated 802.11b/g WiFi. The M250 reader supports encrypted connections (HTTPS and SSH). M250 readers can be powered over Ethernet, 100-240 V power supply w/ IEC connector and US cord, DC barrel jack connector, or DC bare wire connector (12 to 24 volt).
Features:
Full Function Ethernet port (10/100, full duplex)
Optional integrated WiFi 802.11b/g
Standard 110/220 Power Supply and On-board Power over Ethernet (PoE)
32 MB RAM and On-board tag database up to 65,000 Tag IDs
Instantaneous Tag Reporting
Software-Configurable Range Control Settings
Small Footprint and Flexible Mounting Options Direct API Interface Available
High Throughput Performance Supports Large Tag Populations
Ability to Support Multiple Simultaneous Connections
Optional Antenna Configurations for Customized Coverage Zones
Fully Compatible with Zone Manager, Asset Manager, and Sensor Manager