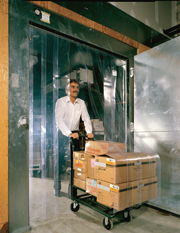 Personnel Strip Door
Personnel Strip Doors
Stops cold-air loss. Saves 30% to 50% on your energy and maintenance costs. Increases employee comfort. Controls dust, noise and smoke at open doorways.
Ideal for supermarket and restaurant walk-in coolers and freezers. Also ideal for institutional and office doors.
One-year warranty.
Easiest strip door to install.
Strips can be easily replaced or rotated in minutes without tools. Simply loosen the thumb screw at the end of the track and the strip slides out.
The one-piece bonded bead mounting hardware is anodized for long life and will not corrode.
All strips are shipped flat (never rolled) so they hang perfect right out of the box.
Model 606: .060 mil thick vinyl with 6″ wide strips
Model 608: .060 mil thick vinyl with 8″ wide strips
Architectural Specifications Amendment
AirBlock Personnel Strip Doors shall be Simplex model #________, utilizing a bonded bead mount system RF welded to the top of each strip. Mounting hardware shall be one-piece Flat Wall or In-Jamb anodized aluminum with built-in relief flanges.