LCD Desk Stands
LCD Desk Stands from Ergotech are ideal in any office environment. They are designed for quick set-up and effortless monitor positioning and can expand to hold up to 6 monitors. Installation is a snap with tool-less, one-step fitting of the monitor to the pole. These free standing systems can be placed anywhere on a desk and can be easily transferred from location to location.
Ergotech's proprietary quick release pivot facilitates easy, one-step monitor mounting and dismounting. The multi adjustment pivot provides effortless monitor positioning left/right, up/down, for both landscape and portrait views. The mounting pivots and stands are interchangeable with other Ergotech products.
---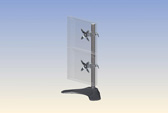 Standard (17″ – 21″)
Ergotech's Standard LCD Desk Stands are ideal for monitors ranging in size form 17″ to 21″. Work with 1, 2, or 4 monitors – it's your choice. Standard LCD Desk Stands expand with ease. Best of all, these units go easily with you from desk to desk.
---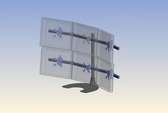 Heavy Duty (17″ – 30″)
Ergotech's Heavy Duty LCD Desk Stands provide all the versatility of the Standard, but are built to handle larger 17″ to 30″ monitors. Heavy Duty models are expandable up to 6 monitors. Choose this powerful workhorse and take it with you with ease.
---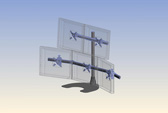 Custom
Ergotech's Custom LCD Desk Stands are heavy duty portable solutions that can be configured to match your needs. This is the ideal flexible solution for 17″ to 30″ monitors. Models are expandable and support from 3 to 5 monitors.