Monitoring and Management Products
The CommandCenter Family
Raritan's CommandCenter® family of command and control appliances is the first to combine the instant, remote access and BIOS-level control of KVM and serial-over-IP, with the power of proactive network, systems and security management.
CommandCenter Secure Gateway consolidates management for Raritan's Dominion Series, Paragon and IP-Reach appliances and all connected servers and other IT devices via a single sign-on to single IP address.
CommandCenter NOC integrates world-class network and systems management, vulnerability scanning, intrusion detection, network performance analysis and reporting into a single, easily deployed platform.
Together, CommandCenter Secure Gateway and CommandCenter NOC speed time-to-repair, minimizing impact on service levels. CommandCenter NOC displays alert, diagnostic information and recommendations together with a direct Hyper-Access™ link, via CommandCenter Secure Gateway, to KVM or serial console control over the device needing remediation.
---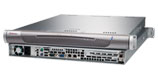 CommandCenter NOC
CommandCenter NOC (CC-NOC) is a network, systems and security management appliance that keeps your IT infrastructure under constant scrutiny to minimize network degradation, outages, security weaknesses and incoming attacks, while ensuring application availability and resource optimization. Its powerful reporting capabilities provide actionable intelligence for corrective actions along with supporting regulatory compliance requirements.
---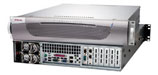 CommandCenter Secure Gateway
CommandCenter Secure Gateway (CC-SG) seamlessly integrates analog and digital KVM switches and serial console servers with connected data center devices for centralized access from any location. It gives administrators a single interface, with a single sign-on for consolidated views, click-and-control access and BIOS-level control, from the rack, desktop, the NOC or anywhere in the world. Use CC-SG to control one large data center, several data centers or an entire enterprise IT infrastructure