Secure Laptop/Notebook Cabinets – Fully Powered
DDP has specifically designed fully powered cabinets to secure and power up to 18 Laptops. Laptops can be powered and updated in the same cabinet that keeps them secure in individual locked compartments.
DDP Laptop Cabinets come complete with:
All Steel bi-parting tambour door
Keylock & 2 keys (optional pad lock bars available)
9 Outlet power bar with surge protection
Louvered (vented) Side Panels
Vented top
(4) Cable grommet holes
All Steel- welded unit (no assembly required)
Standard finish: Black Santex

Cabinet Dimensions
DDP #050-00765 (powered)
O.D. 64.5″ H x 36″ W x 23.5″D
Internal usable height (54.5″)
Standard Finish: Black Santex
Optional Finish: Grey Santex
---
DRAWER OPTIONS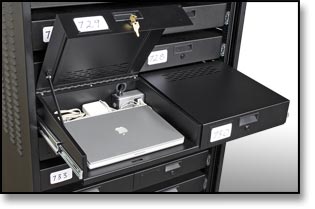 DDP #050-00747 (powered)
Secure Laptop/Notebook Drawer
(can accept laptops up to 14.75″ x 12″ x 3″ high)
Secure Laptop Drawers come complete with a
2-outlet power bar and has (2) private chambers with lockable lids. Note: Each lid is keyed differently to all other lids in the cabinet or cabinets unless specified. Master Keys available. Space required: 6″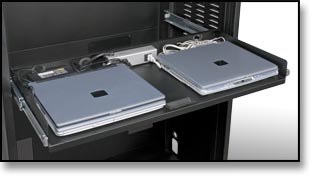 DDP #050-00746
Powered Laptop Drawer (No Lids)
Powered Laptop Drawers come complete with a
2-outlet power bar.
Space required: 3.5″ as standard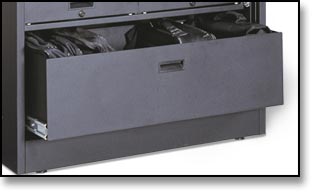 DDP # 050-00704
Bin Storage Drawer
For storage of additional accessories, bags or parts.
Space required: 11″
DDP # 050-00720
Lockable Lid for Bin Drawer
---
FAN OPTION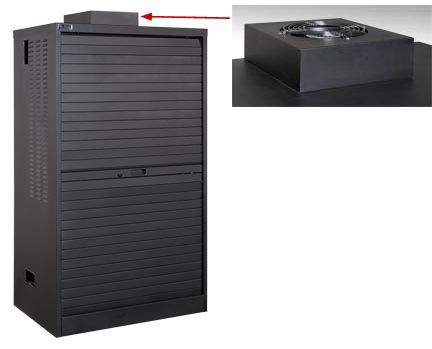 If laptops are being networked as well as powered, then the optional exhaust fan is recommended. The FAN option comes complete with automatic ON/OFF switch that engages on door closure and disengages on door opening.
---
Cable Management Raceway Option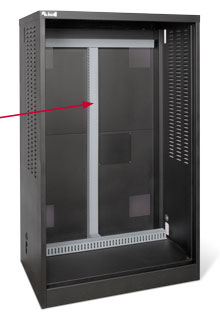 DDP #050-00768
If your cabinet is being networked with RJ45, CAT5 or CAT6 cables then we have designed a cable management raceway that will allow for the NEAT CONTROL of the your cables. Cable troughs have removable covers and flexible fingers to allow cables an exit or entrance at any point through the raceway.
---
Laptop Locker (Desk Mount)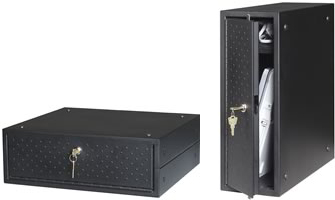 The DDP LAPTOP LOCKER is designed to be mounted horizontal or vertical to the top or underside of virtually any workstation. Units come complete with an ABLOY 3-point lock mechanism for extra security and cable access to allow for power up during storage.
Units are also complete with an internal shelf/divider that is removable if required.
DDP #050-00170
O.D. 16.5″ W x 15″ D x 5.6″ H
I.D. 15.4″ W x 14″ D x 4.5″ H
Standard Finish: Black Santex