Enjoy a clutter-free computer workstation with this ergonomic desktop organizer.
Eliminate desktop clutter with The Ergonizer, The Ultimate Desktop Organizer. The Ergonizer attaches to any LCD monitor and is an instant, accessible, and customizable organization solution for important business and personal items including pens, documents, cell phones, PDAs, photos, headsets, and keys.
The Ergonizer incorporates ergonomic design principles, keeps everything within easy, comfortable reach, and enhances productivity. It's perfect for everyone who works at a computer and is ideal for offices, homes, schools, and dorms. Choose The Ergonizer that's right for you: Deluxe, Slimline, or Mini.
---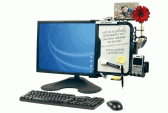 The Ergonizer Deluxe (Model: ERG-DEL-B)
Mount the Ergonizer Deluxe on your LCD monitor and enjoy exceptional storage, ergonomic comfort, easy adjustability, and enhanced productivity.
---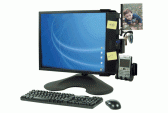 The Ergonizer Slimline (Model: ERG-SLI-B)
Benefit from easily accessible storage in a streamlined model that attaches to LCD monitors and CRT monitors. Store important items and enjoy ergonomic comfort.
---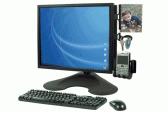 The Ergonizer Mini (Model: ERG-MIN-B)
Enjoy exceptional organization and ergonomic comfort to the smallest workspaces. Mount this smallest Ergonizer on all LCD monitors and CRT monitors.