Ultimate Multi Mount – The Apex Series
Ultimate Multi Mount – The Apex Series
The perfect synthesis of form and function engineered for the display of multiple large flat panel monitors.
Ergotech's beautifully designed and engineered Apex solutions address the rapidly changing demands of the multi-screen environment, including the move toward larger monitors. The Apex is the only LCD mounting system that accommodates 19" to 30" screens in multiple arrays and configurations. The Apex quickly scales from 2 to 10 screens from a single mounting point.
Monitors can be positioned in both landscape and portrait modes and in combinations of the two. With minimal adjustment, The Apex monitors can be easily tiled together to create a seamless block of information. The vertical adjustment handle facilitates the simultaneous up and down movement of this tiled block of information, allowing fast, easy ergonomic placement.
---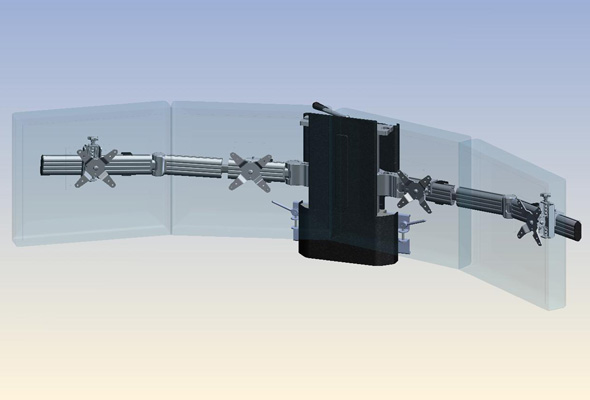 Single Tier
Apex Single Tiered mounts bring streamlined design and superb functionality to the multi screen environment. With Ergotech's legendary scalable design and interchangeable components, Apex Single Tiered mounts easily convert to Dual Tiered Mounts.
---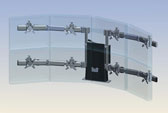 Dual Tiered
These high impact multiple monitor displays enable users to view impressive quantities of mission critical data and information. Financial trading rooms, command and process control centers, and other multi screen environments.