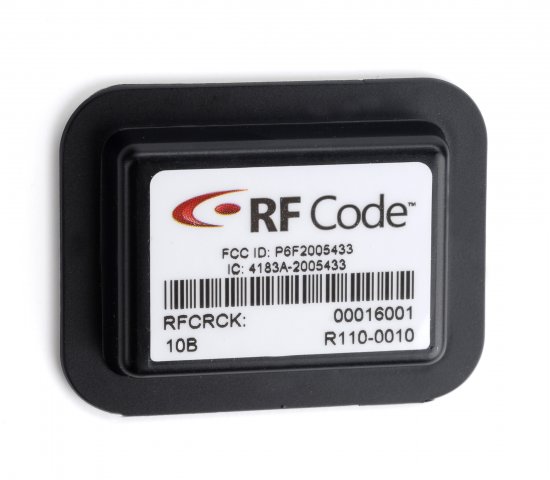 Designed for flexible mounting scenarios, the 433 MHz R110 tag is a battery-powered RF transmitter that attaches to assets such as blade servers and tower equipment that need to be tracked, located and identified. The R110's form factor works as a complement to R100 rack tag and is perfect for use in mixed-equipment deployments. Every tag broadcasts its unique ID and a status message once every 10 seconds. Asset data is then received by an RF Code reader.
These affordable, single-use tags feature both an industrial-strength adhesive backing and a zip-tie lanyard loop, providing for quick and easy installation in a variety of scenarios. The R110's form factor ensures clear signal transmission in high-density rack and data center deployments. Plus, RF Code's patented communication protocols allow for very high tag densities.
R110 tag cases are impact resistant, splash resistant and temperature stable. The R110 tag operates with a very low duty cycle that translates to long battery life. Based on the ratings and specifications from the battery manufacturers, RF Code develops usage models to calculate the life of the active RFID Tags. Like all models, there are assumptions and approximations involved. The values are to be taken as engineering estimates – not guaranteed performance. In most deployment scenarios, tags with a 10-second beacon rate have a useful life of 5-to-7 years. Exposure to extreme temperatures will shorten the battery life. RF Code warrants all tags to be free from defects in materials and workmanship for a period of 1 year.
Features:
Encoded Radio Transmissions at 433 MHz
Specially Designed for Use with Rack Installed Assets
Designed for Use with a Single Asset
Industrial-Strength Adhesive Backing and Zip-Tie Lanyard Loop Allow for Easy Installation
Superior Anti-Collision Technology for High Tag Densities
Benefits:
Easy Installation
On-Demand Inventory of Rack-Mounted Assets
Low Power Consumption for Long Battery Life