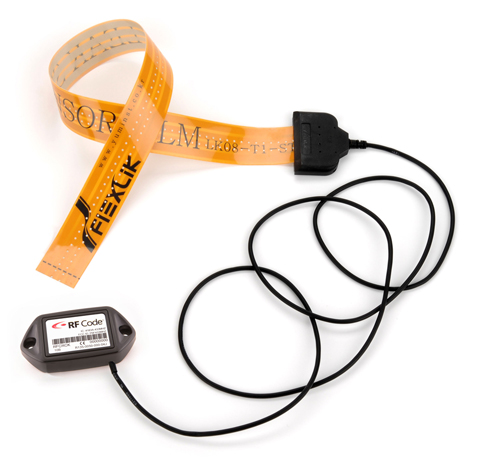 The R135 Fluid Detector Tag is a real-time liquid detection sensor that totally eliminates the need to wire or cable a data center for liquid leak detection capabilities. Combining thin-film technology with RF Code's real-time, wire-free environmental monitoring technology, the new sensor provides the freedom and ease to deploy liquid detection wherever vulnerabilities to conductive liquids threaten expensive IT assets.
The unique qualities of this thin-film sensor make is easy to deploy this sensor in a variety of previously difficult to monitor areas such as:
Floor- or ceiling mounted pipes
Vulnerable floor areas including areas under or above a raised floor
Water delivery systems and chillers, including those found under raised floors in older data centers
Air conditioning units and walls
Unlike traditional leak detection sensors that need "air time" to dry off between water incidents, the RF Code film-based sensor can be immediately wiped down and ready for action instantly. As a result, there is no leak detection downtime—the period between incidents that typical leak sensors require to dry off fully before recouping their ability to sense for water presence. In addition, the amount of liquid presence needed to initiate a leak alert is minimal, thereby reducing response time to an emerging threat.
The R135 Fluid Detector attaches to an RF Code active RFID sensor tag via a three meter cord, allowing maximum placement flexibility. Like all RF Code wire-free sensors, information captured by the sensor tag is instantly broadcast, providing real time monitoring and alerting about environmental conditions at a site.
Features:
Encoded Radio Transmissions at 433 MHz
Leak Sensor Film Can Be Easily Applied to Floors, Walls or Pipes
Instant Dry or Clear Notification
Wire-free Sensor Tag Provides Wireless Leak Detection Notification
Integrates with RF Code's Sensor Manager and Asset Manager software solutions
Easy-to-Deploy, "Wire-free" Monitoring
Low Power Consumption for Long Battery Life