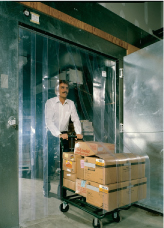 Refrigerated Strip Doors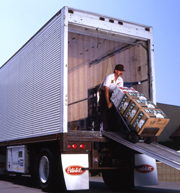 Refrigerated Truck Strip Doors
Simplex Refrigeration Strip Doors
Benefits
Simplex refrigeration strips prevent 80% to 90% of air loss experienced when you use conventional refrigerator doors. Temperatures remain stable. You will experience less shrinkage, product spoilage, less frost build-up on coils, and reduced wear and tear on compressors, motors and switches.
Superior vinyl materials create better seals, last longer.
Patented aluminum mountings are designed to withstand repeated passage of forklifts and personnel.
Use transparent strips for full visibility in busy work environments.
Refrigerated Truck Strip Doors
Benefits
AirBlock Reefer Strips maintain desired temperatures, even in the hottest weather. Eliminate the loss of cold air during entry and exit. Cut the run time on your refrigeration unit by as much as 50%, reducing fuel costs and maintenance costs. Experience less produce shrinkage, thawing of frozen foods and preserve the freshness of dairy products.
Strips install easily and come with all necessary hardware.
Patented mounting systems hold up under heavy use.
Vinyl strips are UV stabilized to prevent yellowing, cracking or curling.
Choose from a variety of materials and thicknesses, depending on the application.
Side-mount brackets for roll-up doors allow you to easily remove strips for fast loading of truck or trailer.
Mount strips inside of trailer to create colder interior spaces.