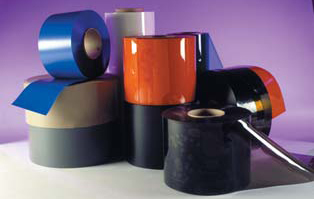 Materials
Standard Vinyl Compound – Our Standard Compound vinyl is the best in the industry. It is designed and formulated to resist yellowing, curling and cracking, even in the harshest outdoor environments.

Solid, Opaque and Tinted Colors – Available in blue, tan, grey, black and white for decorative use. Amber tint is suitable for light blocking. Amber tint .080 mil, red tint .040 mil and grey smoke .120 mil are all certified for welding applications. Grey smoke tint also reduces heat buildup from sunlight. Orange tint can be used for OSHA safety marker strips. Black is excellent for laser and darkroom applications.
USDA and Super Low Temperature Vinyl – Designed primarily for low temperature applications such as walk-in freezers, frozen food warehouses, and extremely cold outdoor climate areas. This material is available with reinforced cords to keep these softer formulated strips from stretching or sagging, a requirement for use in medium temperature areas that require USDA formulations. Scratch resistant ribs are also available.
Static Dissipating Anti-Static Vinyl – Designed for use in static-sensitive applications such as semi-conductor chip manufacturing, explosive environments and extremely dusty applications. The strips will not hold a charge and attract less dust to their surface.
Polysim 509 – This non-outgassing material is made from an inherently static dissipative urethane that provides permanent, non-humidity dependent ESD protection for sensitive manufacturing conditions such as computer disc drives, microelectronics and aerospace. There is no plasticizer used in Polysim, making the volatile condensable contaminants extremely low. Because Polysim is an alloy using high molecular weight materials, the static dissipation properties are permanent. Polysim is also Class 1 fire rated per flame spread and smoke test.