Simplex realizes that every application is unique. That is why they designed the innovative hookbead mounting system for softwall curtains. This two-piece mounting system makes installation of even large softwall panels simple. The t-bar clip design allows you to attach to your existing t-grid ceiling without drilling. Options include a suspended t-bar for mounting to existing ceilings, flatwall mounting on frames or vertical surfaces, in-jamb mounting under headers, frames or horizontal surfaces, and mounting for bi-folding curtains.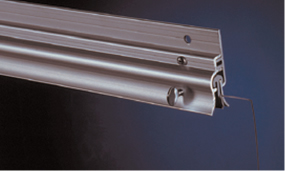 Flex Track Mounting System
The Flex Track mounting system is a sleek, one-piece mounting track fashioned from rigid PVC material. Flex Track incorporates a flexible hinge and bottom flanges, all extruded as one piece. The non-corrosive material and sleek design, with no exterior screws, eliminates exterior crevices where contamination can accumulate. Flex Track snaps open and shut again and again for quick assembly and disassembly. Simply hook solid curtains onto the track and close the continuous cover.