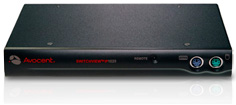 SwitchView Digital KVM Appliance.
Cost-effective, remote access to midsize data centers.
The SwitchView® IP remote access device is a digital switch that includes an on-board Web interface that gives small to midsize businesses convenient, secure, browser-based access to existing analog KVM switches and servers.
The SwitchView appliance lets you select DES, 3DES, AES or 128-bit SSL encryption for keyboard, mouse and video. The device's Java™ video viewer supports Internet Explorer, Mozilla, Firefox and Netscape. Plus, the device is flash upgradeable for fast and easy updates.
With this solution, you also utilize the Dambrackas Video Compression® (DVC) algorithm for high-quality video and gain a local port for convenient connectivity to an existing analog KVM switch or server.