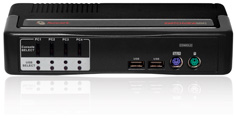 SwitchView MM KVM Desktop Appliances.
Allows switching between USB and PS/2 systems for multimedia applications.
The SwitchView® MM Desktop KVM switches enable you to use a single keyboard, monitor and mouse to seamlessly access multiple PCs, without the expense and waste of valuable desktop real estate.
You no longer need dedicated KVM equipment for each machine.