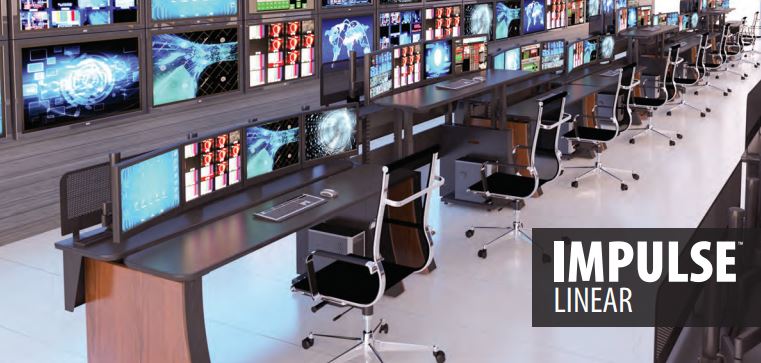 ACHIEVE more & BOOST Morale
"We are meant to move! Sit/stand control room consoles are a great choice for an ergonomic upgrade to your technical furniture. Impulse Consoles take ergonomics and operator comfort to a whole new level by offering two independently adjustable, ergonomically curved work surfaces" https://www.winsted.com/console-products/impulse-dual-sitstand/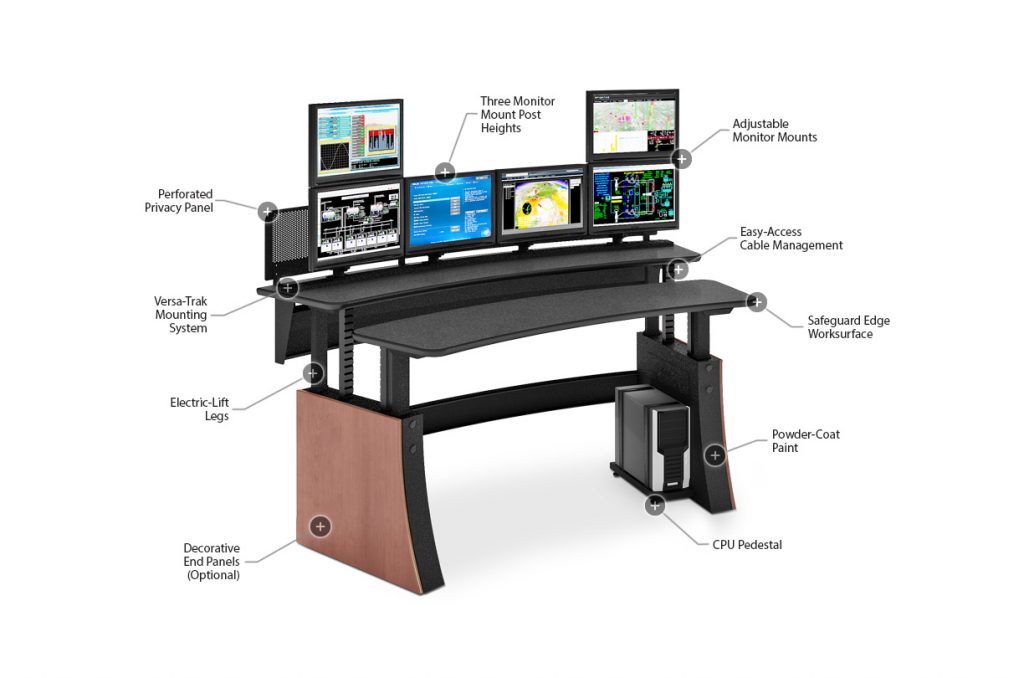 Safeguard Edge Work Surface: Impulse consoles come standard with a durable, high pressure Graphite Nebula laminated work surface featuring our proprietary Safeguard Edge.
Versa-Trak Monitor Mounting System: Integrated horizontal aluminum track system will support a wide variety of monitor arrays. Versa-Trak offers the ultimate in versatility with easy horizontal adjustment. Post-mounted VESA brackets provide vertical adjustability along with the ability to tilt and pivot the monitors.
Electric-Lift Legs: Quickly and easily adjust the work surface height from 30" to 46" at the push of a button. Each work surface has a load capacity of 500 lbs.
Adjustable Monitor Mounts: VESA-compliant pivot/tilt mounts easily attach monitors to a support post, and provides smooth pivot and pitch adjustment for optimal viewing of flat panel monitors.
Perforated Privacy Panel: Decorative, perforated privacy panel conceals cables, enhances the look of the console and adds an element of privacy for the operator.
Easy-Access Cable Management: Enhance reliability while protecting and managing your cables. All Impulse consoles feature a large cable channel incorporated into the modesty panel. In addition, there are four vertical cable carriers that travel with the work surfaces.
Three Monitor Mount Post Heights: Available in three different heights: 15", 28-1/2", and 42" so you can create a monitor array suitable for any application.
CPU Pedestal: CPU pedestal with leg levelers mount to the inside of the leg and features two slots for adjustable Velcro® straps to keep your CPU safe and secure.
Decorative End Panels (Optional): Complete the look of your console with our popular TruForm end panels, which are available in a wide variety of colors. Optional end panels can also be custom ordered in laminate or solid-surface materials.
Powder-Coat Paint: The Impulse infrastructure is coated with a durable black powder-coat paint that accentuates the work surface. Textured finish prevents fingerprints and lasts for years