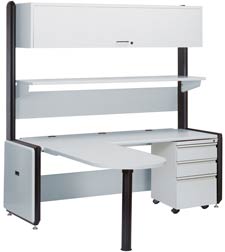 Advantage 2000 Plus workstations are designed for today's technical workspace environments. The modular design permits maximum flexibility in equipment configurations. Additionally, Advantage 2000 Plus allows you to create customized workspace solutions with the addition of optional accessories.
GL2072-A4
Dimensions: 77.50″W x 77.20″D x 78.00-79.50″H*
2001-DF
Quantity: 2
"d" frame upright
2010-HFE
Quantity: 2
Exterior side panel
2272-LA
Quantity: 1
Four point laminated work surface (71.75″W x 25.50″D)
2272-CNT
Quantity: 1
Cantilevered accessory shelf (71.875″W x 18.00″D)
2572-SC
Quantity: 1
Lockable storage compartment
2226-PW
Quantity: 1
Peninsula work surface with adjustable support leg (24.63″W x 48.00″L)
2535-PD
Quantity: 1
Pencil drawer (20.75″W x 15.00″D)
2565
Quantity: 1
Lockable three drawer unit on casters
2472-HCM
Quantity: 1
Front access horizontal cable management tray
2400-VCM
Quantity: 2
Vertical cable management (qty. 2 makes one run below storage comp.)
2372
Quantity: 2
Brace and cover
7215
Quantity: 1
16 position power strip with Circuit Breaker, 5-15P plug, 49″ long
2540-PSB
Quantity: 1
Vertical power strip mounting bracket, one pair
Approximate shipping weight 725 lbs.
*Height with standard leveling glides. Height with optional casters is 80.75″.