Remote Access
Raritan offers an unparalleled array of secure solutions for providing remote access to servers and other devices. All are fully compatible with Raritan's leading KVM switches, and also work with other companies' KVM switches to allow you to take control at the rack, at the NOC, across town or around the world.
---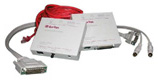 ---
---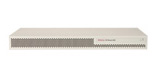 IP-Reach
Raritan's IP-Reach(formerly TeleReach) provides anytime, anywhere KVM-over-IP access to any analog KVM switch with an on-screen display. Requiring only a standard Web browser, it utilizes 128-bit SSL encryption and works across LAN, WAN or the Internet. IP-Reach also works with Raritans CommandCenter Secure Gateway to consolidate control of both analog and KVM-over-IP KVM switches via a single sign-on to a single IP address.
---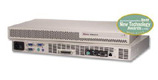 IP-Reach Value Packs
Value packs combine an IP-Reach, a KVM switch, cables and more to give Everything needed for local and remote KVM access to multiple servers in one package.
---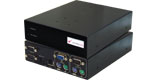 LARA eco
The smallest KVM Over IP device of its kind, Peppercon's LARA eco provides a complete and highly secure remote IT management solution.