For an innovative KVM solution that makes the most of limited server room space, Z-Series are the products for you.
Chain-like Arrangement
Compact Computer Interface Modules (Z-CIMs) plug into the back of servers and are connected with Category 5 cables in a chain-like arrangement. An additional Category 5 cable leads to a User Station, giving you a zero-U solution!
It's Expandable
A single user console (keyboard, monitor and mouse) can access and control up to 42 servers that can be located up to 1,000 feet apart. The Z-Series are scalable to more than 1,000 servers and its unique design eliminates the traditional KVM switch box and all of the hard-to-manage server-to-switch cable..
The Z-Series works easily with Raritan's Paragon products for large scale data centers and is the ideal solution for:
Densely packed 1U and 2U rack mount servers
Corporate Data Centers, ISPs, co-location and Web hosting facilities
Computer test labs, call centers, help desks, training rooms
Access from Anywhere You can access and control your servers anytime and from anywhere by connecting the Z-Series with Raritan's IP-Reach. For the greatest value, Raritan offers special IP-Reach/MasterConsole packages.
---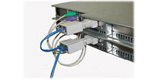 ---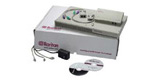 IP-Reach / Z-Series Package
IP-Reach / Z-Series Package – Everything you need to control 8 servers in a Zero-U space, expandable to 42 servers.