Dual Monitor Mounts
Flexible design, personalized monitor adjustment, and expandability describe these versatile monitor mounts.
Ergotech's Dual Monitor Mounts are available as Direct Mounts and Articulating Arm Mounts. All units share Ergotech's tool-less engineering which makes unit set-up and monitor installation a breeze. Dual Monitor Mounts also offer effortless monitor adjustment which ensures outstanding, personalized comfort.
The renowned flexible, scalable design and interchangeable parts of Ergotech products are also found in Dual Monitor Mounts. Just add the right components and a dual unit can hold monitors vertically or horizontally or can expand to hold up to 8 monitors. Choosing the right Dual Monitor Mount is easy. Just click on the links below for complete information.
---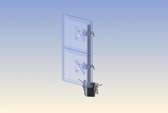 Direct Mount
Dual Horizontal Direct Monitor Mounts are ideal for side by side monitor configuration while the Dual Vertical Direct Monitor Mounts is perfect for stacked monitor configuration. The Dual Horizontal Expandable Direct Monitor Mount expands to hold up.
---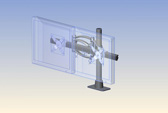 Articulating Mount
These units offer all the benefits of the Direct Mounts along with the ability to fine tune monitor positioning with the aid of the articulating arms. The Dual Horizontal Expandable Articulating Arm Monitor Mount expands to hold up to 8 monitors.
---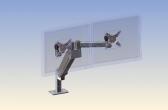 Dual Articulating One-Touch Arm Monitor Mount (Model: 300-F02-S02)
The Dual Articulating One –Touch Arm monitor mount allows two monitors to be mounted side by side. They can be adjusted separately or as a unit. The model is available in grommet, desk clamp, flush, and wall mount interfaces.