Remote Office
The management of IT infrastructure at satellite and branch locations is no longer inconvenient and expensive thanks to Raritan. We recognized the need for flexible, secure, and centralized control of remotely located IT equipment and developed the Dominion KSX. Unlike remote control software, Raritan's hardware-based solution for remote offices provides network-independent access for emergency administration via a single consolidated interface.
Dominion KSX is specifically designed to make the management of IT infrastructure at branch and satellite locations easier, faster, and more cost-effective. This means from anywhere you can access the web, you can directly access, troubleshoot, and even reboot a wide range of remotely located equipment.
---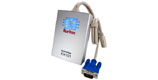 Dominion KX101
Enterprise-class KVM-over-IP device that delivers all the performance and security of Raritan's industry-leading remote KVM access and control technology in a "zero-U," single-port density form factor. KX101 connects 1 user to one server at a dedicated IP address and eliminates the blocking factor inherent in switched KVM architectures.
---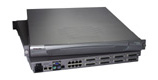 ---