Single Monitor Mounts
Simplicity, expandability, and customized comfort define this small space monitor mount.
Ergotech's Single Monitor Mounts are ideal when you require just one LCD monitor, but want the option to expand. In fact, these single monitor solutions quickly and cost effectively expand to hold 2 monitors with a few extra components. Opt for Single Direct Monitor Mounts or Single Articulating Arm Monitor Mounts.
Advanced ergonomic design makes Single Monitor Mounts an exceptional solution in confined workspace environments. The articulating arm gives computer users the ability to adjust monitor height and distance for optimum comfort and well being. When the monitor is not in use, the articulating arm folds back, nests flush, and does not interfere with other users or partition walls.
---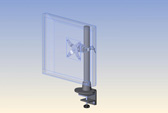 Direct Mount
Quick and easy LCD monitor installation, effortless monitor positioning, and easy expandability are hallmarks of these remarkable solutions. Ergotech's tool-less design, multiple mounting interfaces, and lifetime warranty.
---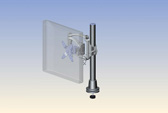 Articulating Mount
Workplace comfort and productivity are directly linked and Ergotech is a leader in ergonomically inspired design. The articulating arm affords superior and customized monitor positioning. Move the monitor back and forth easily.
---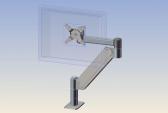 Single Articulating One-Touch Arm Monitor Mount (Model: 300-F02-S01)
Adjust LCD monitor for optimum ergonomic comfort with this monitor mount's articulating arm. Select grommet mount, desk clamp, wall mount, and flush mount models.