RF Code Wire-Free Environmental Monitoring Integration for APC NetBotz
RF Code's wire-free environmental monitoring solution fully integrates with the APC (American Power Conversion) NetBotz solution. The integration is accomplished in a seamless manner bringing the power and flexibility of wire-free sensors such as temperature, humidity, door position, dry contact, and fluid detection to the APC NetBotz solution.
The RF Code wire-free sensors are easy to deploy and ideal for deployment scenarios too complex for traditional wired sensors. The integration increases the capabilities of an APC customer's existing management & monitoring system investments by providing real time, wire-free environmental monitoring capabilities. RF Code's integration with APC NetBotz is included free of charge in the Asset Manager, Sensor Manager, and Zone Manager products.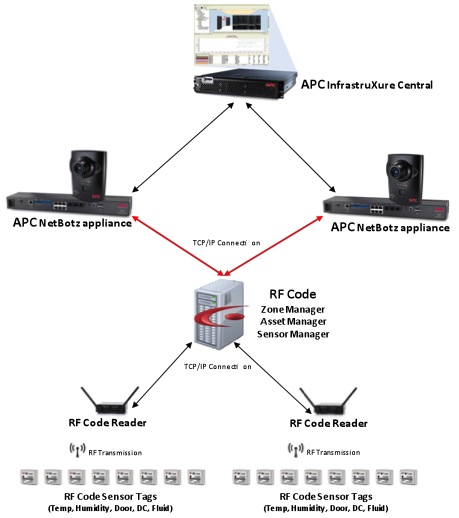 Ideal for monitoring in real time the environmental conditions in IT areas such as data centers, IT rooms and offices, RF Code's completely wire-free approach to environmental monitoring is an affordable, flexible alternative to traditional wired environmental monitoring solutions.
The integration is accomplished by utilizing the NetBotz Pod Sharing capabilities which allows the NetBotz appliances to connect to the RF Code software system (either Zone Manager, Sensor Manager, or Asset Manager). Once the link is established via TCP/IP connection, each RF Code wire-free sensor is available as a remote device (sensor) for the NetBotz appliances and can be "shared" just like remote sensor pods on other NetBotz appliances. Once the configuration of the share is complete, the RF Code wire-free sensors become "Shared Sensors" allowing them to be utilized by the NetBotz system in an identical fashion to native NetBotz sensors including thresholds, graphing, reporting, etc. Furthermore, if an APC InfraStruXure Central platform is being used for centralized management and monitoring, all of the RF Code wire-free sensor information will automatically be made available to InfraStruXure Central as well.
The following illustrations show the RF Code wire-free sensors being utilized by the NetBotz Advanced View and the InfraStruXure Central.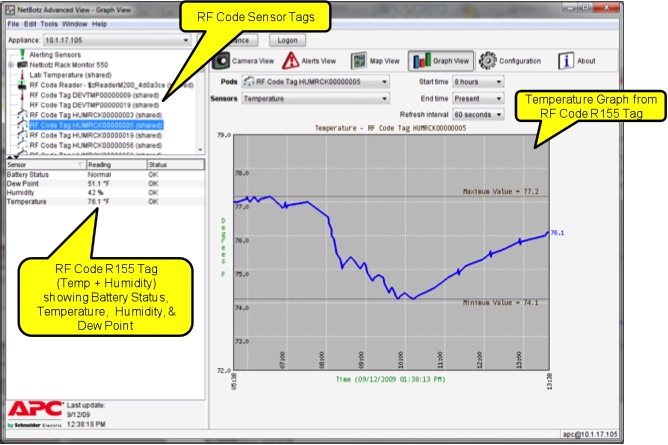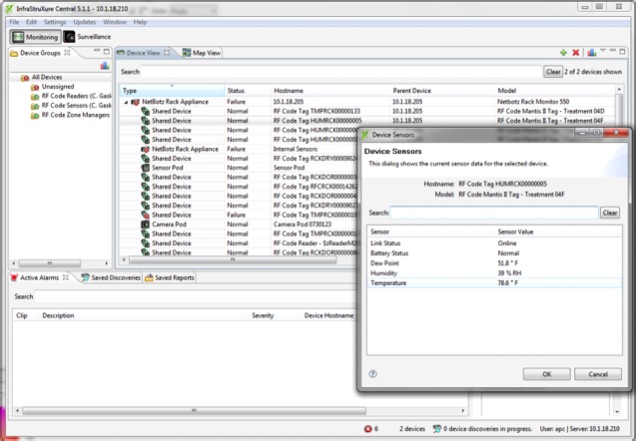 The integration with the APC NetBotz solution supports the following RF Code products:
Sensor Tags:
Readers:
Software: